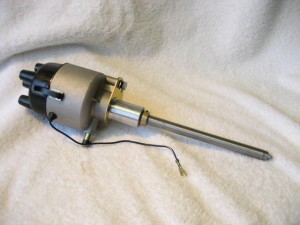 12 Volt Distributor.  $109.95.  Item #923068.
Factor fresh new item.  Set up as 12 volt.  Replace the 12 volt condensor with a 6 volt one and this is a direct replacement for the 6 volt system.  Has condensor and points like the original.
Replace the old, worn out distributor in your flat head engine with this new one!
Application:  All L134 flat head jeep engines.
Item #923068, 12 volt distributor, $109.95.