1951 WILLYS CJ3A
Unrestored, original condition!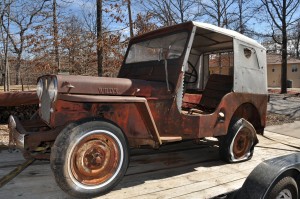 These pictures don't do this jeep proper justice!  The sun was very bright when I took these pictures which resulted in a bit too much contrast on the images.  I believe this jeep looks better than these images represent. This jeep is a very nice, unrestored, and mostly original Willys CJ3A.  The body tub and sheet metal are extremely straight.  The frame is very nice.  The engine looks to be original and most all original items under the hood are present including the oil bath air cleaner, radiator and shroud, carburetor, and generator.  Jeep has 5 matching wheels which I believe are the original factory wheels.
This jeep has some very nice Willys accessories such as the grill screen and Harrison heater.  I'm not sure, but I think the front axle has "summer hubs" installed.  The summer hubs were installed when the 4 wheel drive was not needed.  This kept the front axles from spinning when driving resulting in slightly better gas mileage and less wear and tear on the front axle components.  Easily changed back to 4 wheel drive by installing the correct drive flanges.  
I'm fairly certain that areas of original factory paint are visible, especially under the hood.  The original factory applied "4 Wheel Drive" script is still visible on the tailgate.  
The engine is not stuck or frozen.  It turns over by hand.  The gears shift.  It is possible that this jeep could be started with nut too much effort.  This jeep has seen very little alteration.  It has been owned by the same family since the 1960's.  The body tub is very restorable or use it as is.  The front floor on the drives side is going to need some attention and there is some small areas of rust behind the spare tire.  
This is a very nice, mostly original and unrestored jeep.  Finding a jeep like this is just about impossible these days.  Most jeeps have been altered many times and past from one owner the other.  This jeep is fresh from the barn and I have done nothing to it to alter it nor have I taken any parts off of it.  If you are looking for a nice Willys flat fender jeep to restore, they don't get any easier than this one!
Asking $4,000.  Jeep comes with title which matches the data tag.  
Click on images for a larger view!