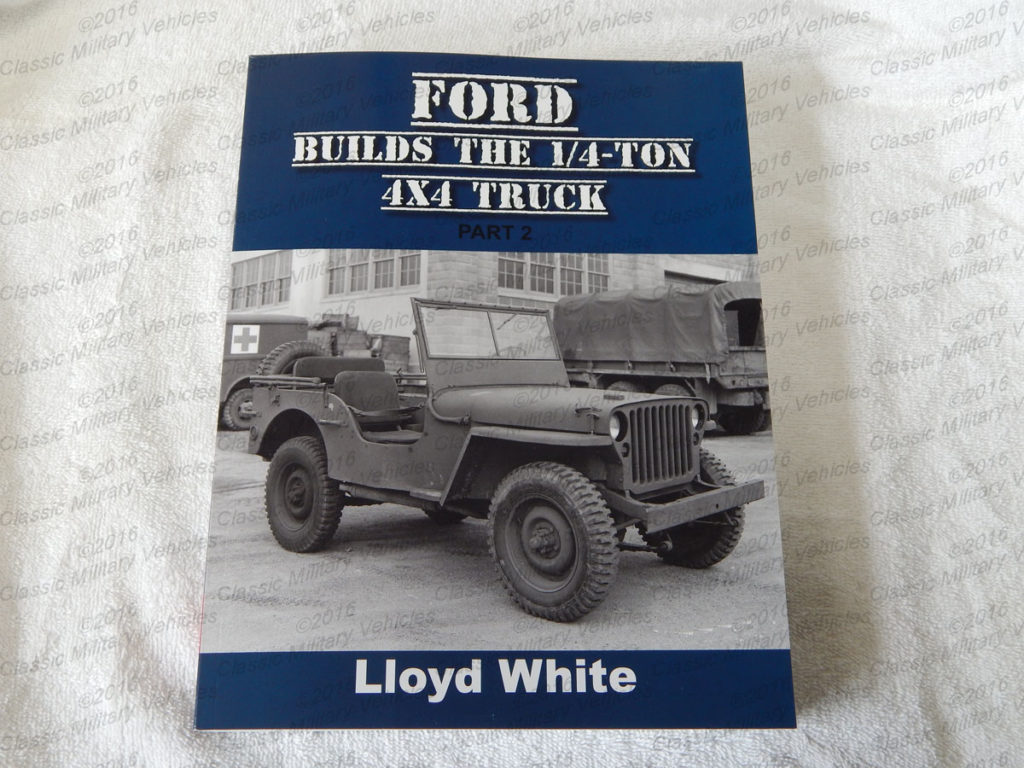 Click on above images for a larger view!
This is VOLUME 2 of a two volume set.  This fine quality book is by author Lloyd White.  This book covers the Ford GPW WWII army jeep production.
This book is very high quality.  Printed in the USA.  Volume 2 is 637 pages.  Full of high quality photos, drawings, and images of original factory documents and military contracts.  Brand new book.  This book measures approx 8 1/2 x 11 inches each.
 This series of books has quickly become the new "gold standard" for Ford GPW information.  For years information on the Ford GPW jeep has been speculation, opinion, contemporary legend or just plain "wrong".  These books use original factory documents and countless never before available photos to reveal the true facts of the Ford GPW production.  You will find very little speculation, guesswork and opinion here. 
This book will not be a casual reading experience.  These books are not service manuals and there are no restoration tips here (except production facts!)  The books in the 2 volume set are more accurately compared to an encyclopedia.  It will take the average reader years to absorb all the information in these books.  The pictures alone are worth the price of the books.  These pictures will take you back to the days of production like you were there.
Why buy these books when all this information is already available on the internet?  This information is not on the internet.  Most of the pictures in the 2 volume set have never been found on the internet.  The detailed information in these books that has been sourced from original factory documents actually proves some previous speculation on the internet to be wrong.  To date, this is (in my opinion) the most detailed and accurate Ford GPW production information available.
Why are these books so expensive.  First of all they really are not expensive.  Have you purchased a college text book lately?  These books are of the best quality paper and printing available.  These books are printed in the USA and no quality was compromised in the printing process.  Volume 2 alone is 637 pages and weighs over 5 pounds.   If you consider the costly mistakes that can be made in purchasing a Ford GPW or restoring one incorrectly, the 2 volume set is a bargain.  
About the Author.  The editor and author of the 2 volume series is Lloyd White.  Lloyd White first became interested in WWII jeeps in 1960 when he purchased his first jeep, a 1945 Willys MB.  For over 30 years Lloyd has been collecting photographs and documents related to the WWII jeep production.  These documents and photos have been sourced from National Archives and military facilities not from the internet.  Lloyds knowledge and research materials (not opinion) have allowed him to be a regular contributor to the MVPA's magazine, Army Motors, for over 25 years.  It is Lloyds research and photo collection that makes up the foundation of the 2 volume set.  Thank you Lloyd for compiling this information for all classic military vehicle enthusiasts.  This information will also serve as a source of information on the Ford GPW for generations to come.  
Ford GPW Book by Lloyd White.  Vol 2 Only.  $90