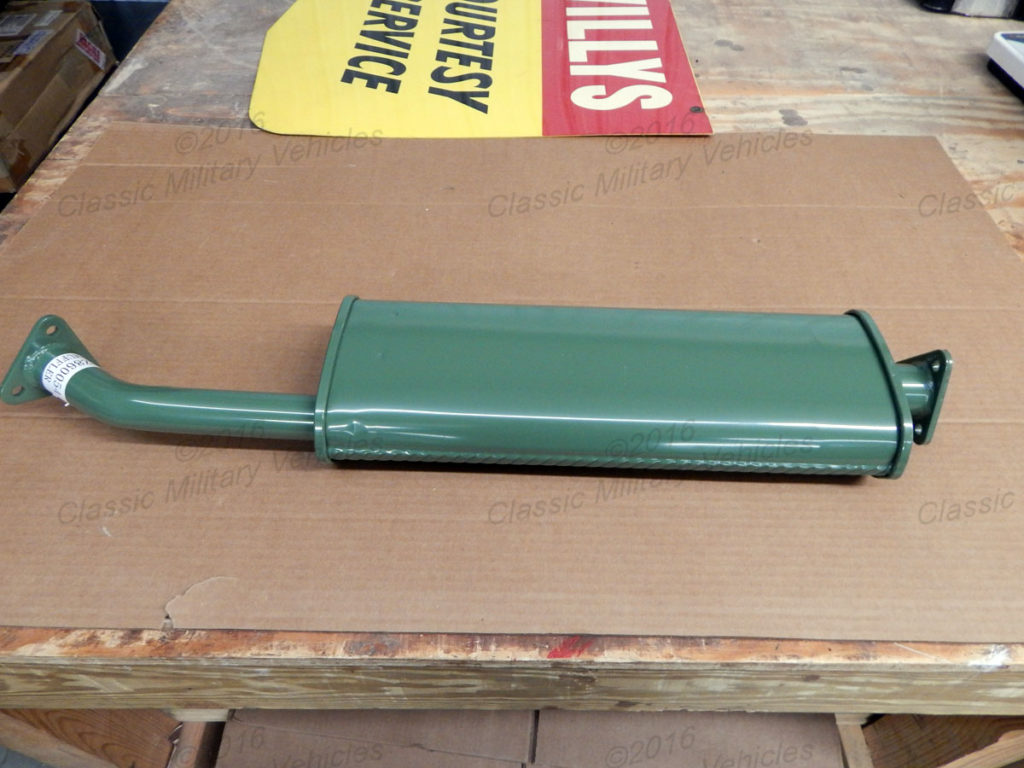 Click on images for a larger view!
Willys M38 Correct Style Muffler,  $59.00
WILLYS M38 or M38A1 EXHAUST MUFFLER  CORRECT STYLE  VERY HIGH QUALITY
Very high quality and correct style muffler for the Willys M38, M38A1 or M170 army jeeps.  May work nicely with other applications.  This muffler has the correct 3 bolt flange on the tail pipe for attaching the fording kit exhaust pipe.  Even if you don't attach the fording pipe (which most don't) your muffler will now look and be correct for your vintage jeep.  This 3 bolt flange tail pipe is one of the fine details that really stands out on the M38 jeep.  Nothing looks worse than a nicely restored M38 with a standard tail pipe.  Do it right and get a very high quality muffler at the same time!  Correct oval design.
I have included a picture of one of our shop M38 jeeps to show this type of muffler installed.  You can see how the 3 bolt flange is visible even if you do not attach the fording kit pipe.
Brand new fresh stock.  This is not 60 year old military surplus.  Don't buy a surplus muffler.  They will be rotten inside for sure.
Willys M38 Correct Style Muffler,  $59.00