Vehicle is sold!
1952 M38A1.  $1,400.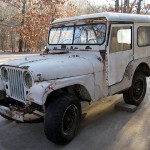 For Sale:  1952 Willys M38A1.  Includes hard top.  Very complete and restorable jeep.  Frame is in very nice shape.  Body tub is very restorable with only minor work needed.  Complete with all original data plates.  Includes both front seats.  Not running, but engine is not stuck, it turns over very easily by hand.  Original transmission and transfer case.  Good hood.  24 volt military lights. Original bumperetts.  Original oil bath air cleaner.  Original radiator.  Right front fender will need to be replaced.  Left front fender looks repairable.  Have you been looking for an M38A1?  You won't find a better restoration jeep than this one.  This jeep was a Civil Defense jeep after military service.  Civil Defense sticker still visible under the white paint.  Asking $1,400.
Take a look at the pictures and call me if you have any question.  Sells with a bill of sale, no title.  Be sure to click on each image for a larger view.  Thanks! Dan.
Contact Classic Military Vehicles at (479)855-7499
Click on any image for a larger view!