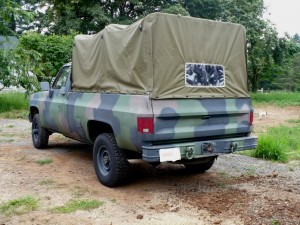 M1008 Vinyl Cargo Cover / NOS / Never Used / $575.00
New NOS (New Old Stock). Never used.  Still in the box.  Vinyl cargo cover for the Dodge M1008.  Also works on the Chevy GMC CUCV.  Might also be adaptable to the Dodge M37, M715 or other vehicles.  Condition is NOS, still in box, never used.  Covers are a bit dusty or dirty from storage.  
These cargo covers are designed to fit the cargo bed of the Dodge pickup style military truck.  These covers include the front and rear flaps.  The one that I opened and inspected had vinyl windows in the front and rear flaps.
These cargo covers also work great as a cover for your 1/4 ton army jeep or CJ2A, CJ3A jeep.  I use these to cover up the jeeps that I store outside.  The covers fit very nicely over a jeep with the windshield down.  I don't even bother to tie the covers on the jeep.  I just place the cover over the jeep and forget it.  The wind doesn't pull the cover off and the jeep stays dry and clean.  A perfect cover your jeep!
Covers are in cardboard cartons and UPS very nicely.  Shipping should not be too expensive.  Ask for a shipping quote.
M1008 / CUCV / Jeep cargo cover.  $575.00.  NOS.
Cargo cover only.  Vehicle not included.