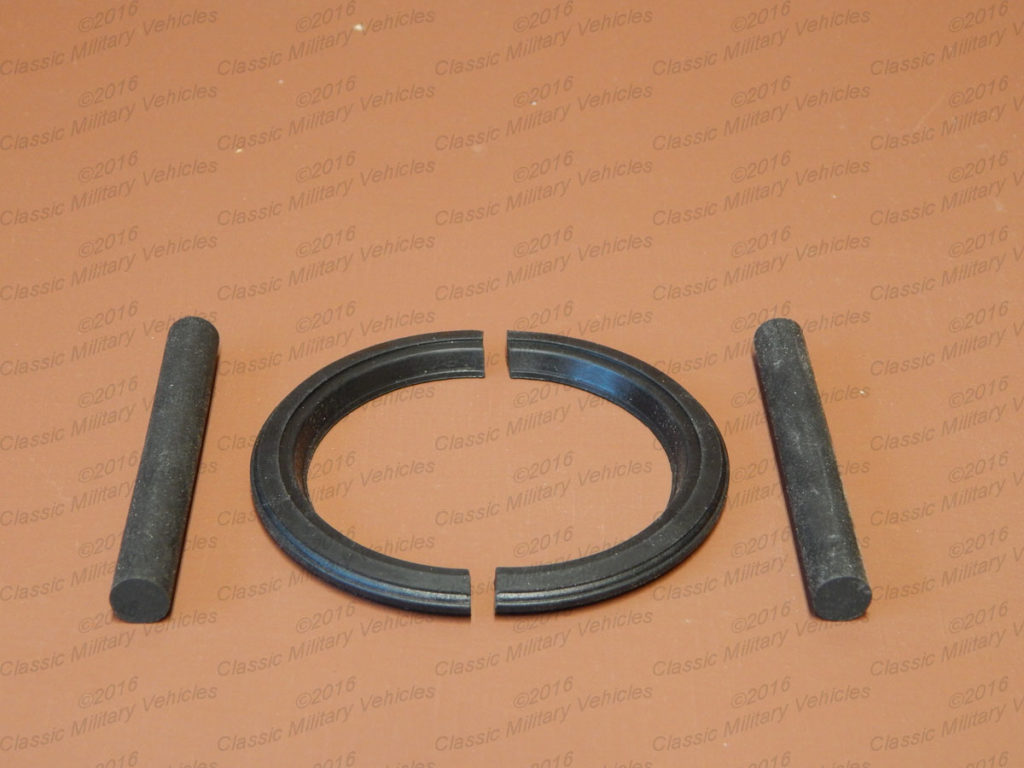 Rear Main Seal, L134 or F134,  $31.00.  Item #3B71-1.
WILLYS REAR MAIN SEAL
BY BEST GASKET
BEST REPRODUCTION AVAILABLE!
This item is a very high quality new production crankshaft rear main seal.  Correct for Willys MB or Ford GPW WWII jeeps as well as Willys CJ2A, CJ3A, CJ3B, M38, M38A1 and early CJ5 and CJ6 with the F134 engine.  Correct for either the L134 or F134 Willys Jeep engines.
Very high quality neoprene rear main seal.  This seal actually fits correctly and works nicely.  Many of the reproduction rear main seals on the market today fail immediately because they are simply too tight.  Some of these bad seals are so tight that the crankshaft cannot be turned once they are installed.  These seals usually burn up within the first few minutes of engine running or damage the crankshaft.  Rope seals are the choice of many but rarely do a good job of sealing oil leaks.
These seals are made by Best Gasket and are in fact the best and only choice if you want the seal to work.  These seals are not too tight when installed correctly.  
These are factory fresh seals and not 60 year old military surplus.  Don't put a faulty seal or a 60 year old seal in your jeep.  The job of rear main seal replacement is too time consuming to use anything other than the best.  
You will be very pleasantly surprised with the high quality of this item.  
This is not a cheap import item.  Not Omix-Ada brand.  This seal is made by Best Gasket.
Application:
41-45 Willys MB
42-45 Ford GPW
45-49 CJ2A
49-53 CJ3A
53-64 CJ3B
55-71 CJ5 (w/ 4-134 engine)
50-52 M38
52-66 M38A1
46-53 Truck (w/ 4-134 engine)
46-53 Station Wagon (w/ 4-134 engine)
48-51 Jeepster (w/ 4-134 engine)
Item #3B71-1,  Rear Main Seal 4-134,  $31.00

I am getting very positive feedback from buyers who are now using this seal.  I have only heard good things.  Many of the guys who have purchased this seal from me have tried other seals first and have experienced immediate failure.  The other seals are just coming apart immediately because they are too tight.
Here are some messages I have received recently from customers who have tried the other (junk) seals before they tried my seal.
I received your

rear

main

seal for the Willys 134 F head and installed it and it worked perfect.  No drag and no leaks.
This is a top quality product and I would recommend to everyone.
The side seals fit much better than other manufactures.
.
The rear main seal I bought from you a few weeks ago seems to be doing the job. The one I had before lasted 1 day if that long and the oil poured out. Good product. 
.
Dan,
Excellent seal! Will be buying another for a future engine rebuilt. Thanks!
.
OK GUYS, I have used one of Dan's rear main bearing seals, and I am impressed. The thing works very well.  I have always been a rope seal sort but this thing fixed the problem right now!! The rope seal that was in the engine was installed wrong and the oil would just pour out, this was a quick and easy fix. Been running about a week now, not a drop of oil>>>>> I am sold on this seal.