Frame is Sold!
CJ2A Frame.  $225.00.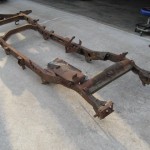 For Sale.  Willys CJ2A chassis.  A great frame for your restoration project.  The front frame horns are intact and in good shape.  The frame is a good frame with the exception of the front crossmember, it will need to be replaced.  Use this frame as the beginning of your project or use it for parts. 
Take a look at the pictures and give me a call if you have any questions.  Asking $225.00 (have you priced a new frame lately?).
Click on any image for a larger view!